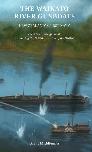 New Zealand's first Navy was a collection of converted and specifically-built paddle steamers to transport and support the British Army in its campaign in the Waikato, 1863-64.
Grant Middlemiss has assembled years of research and worked with illustrator Harry Duncan to bring to life these ships and their achievements. Without our contemporary concerns for joint operations, it is reassuring to know that joint amphibious warfare was being successfully practiced within New Zealand 150years ago.
Middlemiss has brought a fresh perspective to the land wars and gives us a timely reminder that sailors were a crucial enabler of the military campaign.
Priced at $35.00 NZD this book is an informative read that will not disappoint.To enquire about purchasing a copy of this book please email shop@navymuseum.co.nz or call 09-445-5186.
Reviewed by CDR Richard Jackson RNZN (Rtd) for Navy Today