We would love to see you and your students at the Torpedo Bay Navy Museum.This page has all the information you need to plan your visit.

Bookings
Whether you choose to take part in one of our fantastic education programmes or make a self-guided visit to the Museum, all groups must be pre-booked.
To make a booking you can:
Call 09 445 5186
Email education@navymuseum.co.nz
Fill Out Our Online Booking Form


Costs
Our 1-hour education sessions cost from $2 per student with a minimum charge of $30.  Bespoke sessions may incur an additional charge.  While we do have the facilities to pay on the day, we prefer to invoice school groups following their visit.
Information on our programmes can be found on our Education Programmes page.

Supervising Adults
All supervising adults are free of charge and we have no limit on how many adults can accompany your students.  Supervising adults are to be well-briefed and have access to relevant supporting resources.
Our minimum Supervising Adult to Student ratios are:
ECE  1:3  |  Y0-4  1:6  |  Y5-6  1:7  |   Y7-8   1:10  |  Y9-13  1:30
Booking Confirmation
Upon booking being confirmed, you will receive a Confirmation Letter with a completed itinerary for your visit, a completed RAMS form to assist in your planning, a Visit Information Sheet, an Accompanying Adult sheet, programme specific resources, and a Gallery Activity to self print.

Useful Resources for your Visit
Once your booking has been confirmed, the following downloadable resources are available to assist you in the planning of your visit.
  Navy Museum Visit Information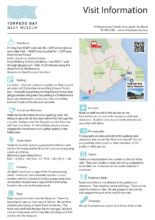 The Visit Information Sheet aims to answer all of the organisation questions you may have about your day in an easy-to-read 1-page sheet.  All teachers, accompanying adults and students should be made aware of the sections relevant to them.  If you have any additional questions on the organisation of your day, please do not hesitate to ask.


   Navy Museum RAMS form2018 Navy Museum Visit Information
Our RAMS form is to support you in completing your own risk assessment helping to make your visit a safe and successful one.  It should be read thoroughly by all teachers and accompanying adults, who in turn should make students aware of the behaviour needed to minimise the risks of a visit to the Museum.  Teachers should keep a copy with them.  Onsite pre-visits are free and strongly recommended.

  Navy Museum Accompanying Adults
This sheet is to provide accompanying adults the information they need to keep with them while at the Museum.  It should be filled out by the class teacher prior to arriving at the Museum.

  Navy Museum Gallery Activity (Y0-8)
The gallery trail is to be printed by teachers prior to arrival at the museum.  It best printed on A3, double-sided, flipped on the long edge.
You may wish to have the students answer the questions, or use them as discussion points for accompanying adults to interpret the display information for the students.

  Navy Museum Gallery Trail (Y5-8)
The gallery trail is to be printed by teachers prior to arrival at the museum.  It best printed on A3, double-sided, flipped on the short edge.
It is designed to get students thinking about the artefacts and stories in the galleries.  Please feel free to also use them as discussion guides rather than traditional worksheets if you wish.


  Navy Museum Sample Itinerary
Not sure how the day would look?  Here is a sample itinerary for a visit with 4 classes.  Upon booking, we will create a custom itinerary that suits your needs.
If you have any questions please do not hesitate to contact our friendly and helpful staff.