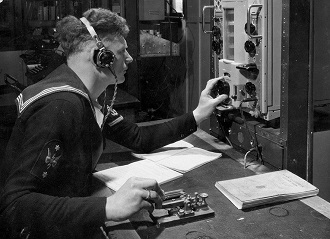 Communication is in the essence of humanity.
Does what we say dictate how we say it?
How do codes work and why do we have them?
How has communication changed through the development of technology?
---
Suitable for Y5-8   |   Cost $2 per student   |   Maximum of 4 classes per day
New Zealand Curriculum Alignment
Key Competencies – Thinking; Using language,symbols, and texts; Relating to others
Learning Areas – Science: L.2, L.3, L.4   |   Technology: L.2, L.3, L.4
---
In this programme, students explore the development of communications technology in the Navy.  Students become Sigs and Sparkers (Navy Communicators) and experiment with different methods of communication such as Morse code, phonetic alphabet, signal flags, semaphore and radio.  They try their hands at deciphering and writing codes.
They consider issues such as: who else is listening; communicating understanding and misunderstanding; and communicating as a team.  Students will receive a signal booklet to keep notes in and keep a record of the codes they learn.
NZ Curriculum alignment
Technology:

L.2 – Technological products; Technological systems; Characteristics of technology
L.3 – Technological products; Characteristics of technology; Characteristics of technological outcomes
L.4 – Technological systems; Characteristics of technology; Characteristics of technological outcomes

Science:

L.2 – Physical inquiry and physics concepts
L.3 – Physical inquiry and physics concepts
L.4 – Physical inquiry and physics concepts
Achievement Objectives
Students will demonstrate knowledge and understandings of:
Some of the methods of communication used by the RNZN today and in history
How technology has changed communications
How different methods of communication deliver different messages
Some of the many ways they communicate and are communicated to every day
How code work and why we use them