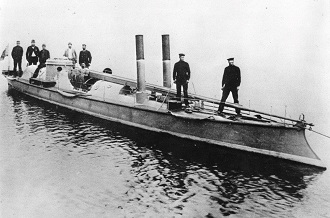 In its prominent location at the mouth of the Waitemata harbour, the Devonport area has long been a useful and significant site to people.
Who has used this site? How was it significant to them?
In this programme, students will investigate our historically important site over specific time periods.

---
Suitable for: Y1-8   |   Cost: $2 per student   |   Maximum 4 classes per day
New Zealand Curriculum Alignment
Key Competencies – Thinking; Using language, symbols, and texts, Relating to others, Participating and contributing
Learning Areas – Social Sciences: L.1, L.2, L.3, L.4   |   English: L.1, L.2, L.3, L.4   |   Technology: L.1, L.2, L.3, L.4
---
Students will act as archaeologists to search for clues and draw informed conclusions about our site's history.
Students will consider Te Haukapua (Torpedo Bay) during Maori arrival and settlement.  They will search for archaeological evidence of Maori settlement in the area and examine this to form theories around the technology that was employed by the original inhabitants of the site.  They will investigate the historic buildings of the site built during the "Russian Scares" of the 19th Century and look for evidence of their purpose and use.  During the course of the programme students will work on their questioning, reasoning and presenting skills.
NZ Curriculum Alignment
Social Sciences: Understand how:

L.1 – The past is important to people; Places in New Zealand are significant for individuals and groups
L.2 – People make choices to meet their needs and wants; Time and change affect people's lives; Places influence people and people influence places; People make significant contributions to New Zealand's society
L.3 – People view and use places differently; People make decisions about access to and use of resources; People remember and record the past in different ways; Early Polynesian and British migrations to New Zealand have continuing significance for tangata whenua and communities; Movement of people affects cultural diversity and interaction in New Zealand
L.4 – Exploration and innovation create opportunities and challenges for people, places and environments; Events have causes and effects; Formal and informal groups make decisions that impact on communities; People participate individually and collectively in response to community challenges

English:

L.1 – Speaking, Writing, and Presenting: Ideas
L.2 – Listening, Reading, and Viewing: Ideas | Speaking, Writing, and Presenting: Ideas
L.3 – Listening, Reading, and Viewing: Purposes and strategies; Ideas | Speaking, Writing, and Presenting: Ideas; Language Features
L.4 – Listening, Reading, and Viewing: Ideas; Language features | Speaking, Writing, and Presenting: Ideas; Language Features

Technology:

L.1 – Technological modelling; Technological products
L.2 – Technological modelling; Technological products; Characteristics of technology
L.3 – Technological products; Characteristics of technology
L.4 – Technological products; Characteristics of technology
Achievement Objectives
Students will demonstrate knowledge and understandings of:
Some ways in which Maori who migrated to and settled at Te Haukapua would have perceived and interacted with the land
Some of the technologies the Maori of Te Haukapua utilised
The significance of geological features of the area in regard to settlement
Some modern archeological practices
The historic buildings of Torpedo Bay
How and why the Devonport Submarine Miners would have perceived and interacted with Torpedo Bay
How good questions can lead to informative answers