On 12 April 1913, in unpleasant weather, Wellington turned out to witness the arrival of a special ship.  "… Grim grey, a little squat … HMS New Zealand moved in over the gale-swept harbour …punctual to the minute.' (Dominion, 14 April 1913)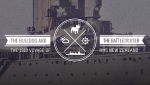 This Royal Navy battlecruiser was a gift to Britain from the New Zealand government and she was here down under to show us what our money had bought. HMS New Zealand was two months into a 10-month tour of Empire ports and it would be another 8 months before she returned to England. New Zealanders responded enthusiastically – more than one-third of the population took the opportunity to tour the ship, and hundreds of thousands more viewed her from the shore. "There was a sense of proprietorship deep in the minds of the beholders of the stranger. All looked upon her with a real personal interest. She was "Our Dreadnought."' (Ashburton, Guardian, 14 April, 1913) Captain Halsey, one of the youngest Royal Navy captains of the period, was charismatic and much lauded. A number of New Zealanders were included in the crew of nearly 800.  Also part of the crew was British bulldog Pelorus Jack, a naval volunteer with the rating of 'Puppy,' and ship's mascot.
Visit the website www.hmsnewzealand.com 
Auckland War Memorial Museum and Torpedo Bay Navy Museum invite you to join us as we follow the battlecruiser on her world tour and gain insight into New Zealand's world of 1913 through newspaper reports, photos, personal stories, ephemera and collection objects from HMS New Zealand.