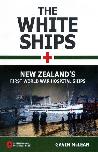 By Gavin McLean
New Zealand's hospital ships are often taken for granted in military histories. In fact the effort that went into and equipping the NZ hospital ships was considerable, led by the Governor General no less. The lessons were clear and the hospital ships were quickly revived for WWII.
This book is part of the centenary History of NZ and the First World War. McLean has written a lively and authoritative study, and his informative captions are a model for other authors.
Priced at $60.00 NZD this book will make a nice edition to any personal collection and is worth every cent. To enquire about purchasing a copy of this book please email shop@navymuseum.co.nz or call 09-445-5186.
Reviewed by CDR Richard Jackson RNZN (Rtd) for Navy Today