Flight Lieutenant Harold Francis Beamish was born in Hastings on 5 July 1896 and grew up on the family farm, Whana Whanga, about 90km from the city.
Educated initially by a governess, then at Huntly boarding school in Marton and later at Wanganui Collegiate, he was still at school when war broke out in 1914.
He left school in 1915 he applied to train as a pilot at the New Zealand Flying School, but was refused entry when he failed the medical examination because of a bad heart.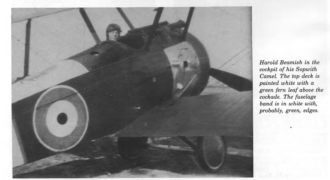 Not to be deterred, Harold made his way to England, arriving there in July 1916 where a Harley Street specialist could find nothing wrong with his heart.
He then applied for and was granted a commission in the Royal Naval Air Service.
Harold was given the rank of probationary Flight Sub Lieutenant.
As with all officers at the time his first posting was to the Naval Establishment at Crystal Palace for the basic induction course.
The course lasted two weeks.
From there he went to Royal Naval Air Station Cranwell for flying training. On 29 July Harold took his first flight in a Maurice Farman aircraft with an instructor and on 10 August after 3 hours and 46 minutes under instruction he went solo.
Between then and 20 November when he finished training, Harold qualified on three other types of aircraft.  From Cranwell it was to Freiston for bombing practice and then to Dover, awaiting orders to proceed to France.
These came on 8 January 1917, after a total flying time of 48 hours and 58 minutes, including five forced landings and the next day he embarked in the destroyer HMS Racehorse for passage to Dunkirk.
After a rough trip during which he was seasick, Harold joined Number 3 Squadron RNAS, being appointed to A flight.  After nearly a month at Dunkirk the squadron relocated to Verte Gallant and operations commenced in earnest, flying in Sopwith Pup aircraft and there were some memorable incidents.
On 7 February his aircraft was blown over when taxing out; on 10 February his face was frost bitten while patrolling at 16,000 feet and on 26 February he escorted bombers to the Hindenberg Line but on the return flight the cloud base dropped to 1,000 feet and he landed near Albert to find out where he was.
The plane was immediately surrounded by 10 Germans, who fortunately turned out to be prisoners of war and pulled the aircraft out of the mud and Harold made it safely back to base after his frightening experience.
Harold had his first combat experience on 4 February when five British aircraft chased two German. On 3 March while escorting bombers to the Hindenburg Line he was lucky to survive.
He was attacked by three German aircraft over Bapaume.  The throttle was shot away, the petrol lead holed, the main spar and one strut holed and his leg grazed, before he was able to escape and get to Arras aerodrome, where his fuel ran out on the approach.
April 22 was a memorable day for Harold, when he shot down his first enemy aircraft.  He was part of a flight on an offensive patrol when they met eight German aircraft.
One, an Albatross DIII, he shot down and with three other aircraft, dived on another but were attacked from behind by "a whole bunch", three of which attacked Harold.
He spun his aircraft for 2,000 feet, but finding they were still there and he spun again and escaped into the clouds.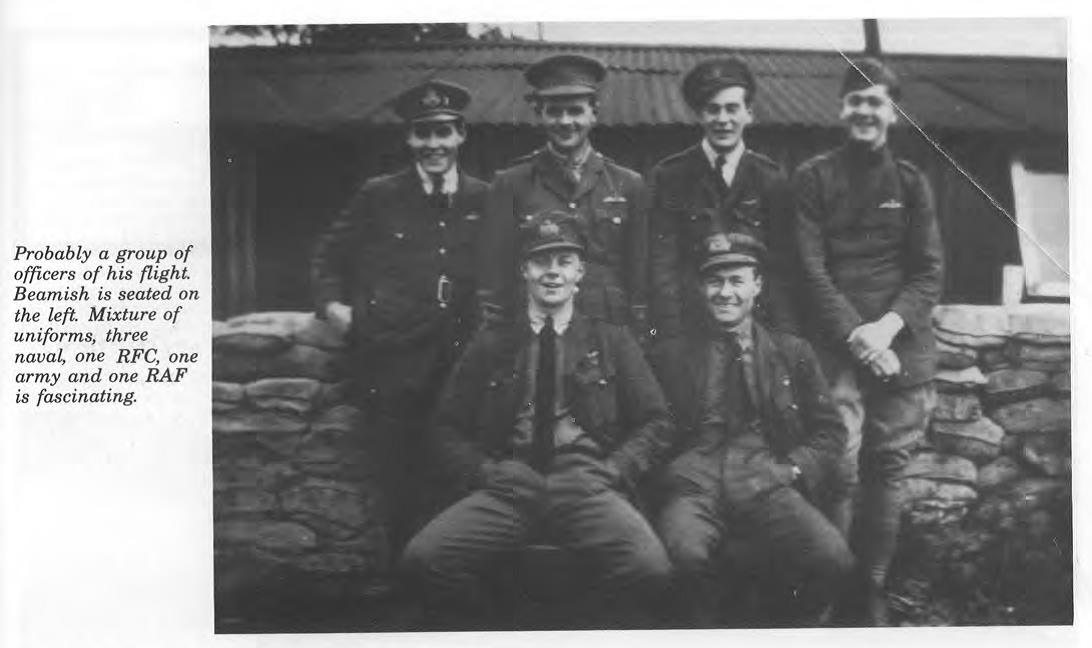 The work of the squadron was arduous as well as hazardous.
Flying at heights up to 20,000 where the temperature was below zero in open cockpits required great endurance, with the threat of frostbite on the face always present.
However, these were young men with a passion for their work.
Regulations on the appearance of aircraft were not strict and individuality was permitted.
Harold's aircraft had a white panel on the top of the fuselage painted with a green fernleaf.
This panel was taken home by Beamish when he left Europe and mounted on his wall.
In the appalling spring weather the war continued and Harold accounted for two more German aircraft by himself and assisted in the destruction of two more, by late September.
The squadron had gone back to Dunkirk in July and re-equipped with Sopwith Camel aircraft, which as a great improvement on the underpowered, single gun Pup.
In February 1918 four officers of 3 Squadron went to London, where on 5 February Harold was invested with the Distinguished Service Cross by His Majesty the King.
The citation in the London Gazette states that this was in recognition of his services at Dunkirk between January and September 1917, during which time he destroyed several hostile machines and drove down numerous others.
Back in France it was the middle of winter and temperatures at 17,000 were as low as -15o F and the guns froze up.  Nevertheless the squadron undertook offensive patrols on most days.
In April Harold developed measles and spent 13 days in hospital.  This was the period of a major German offensive and back in action Harold shot down three more enemy aircraft and assisted in the shooting down of three others during May.
He also assumed the duty of Flight Commander of A Flight.  In this time he was described in his Personal File kept by the Admiralty as being an exceptional, splendid and daring pilot and outstanding flight leader.
On 1 April 1918 a major administrative change occurred when the RNAS was absorbed into the newly formed Royal Air Force.
Part of this resulted in Flight Lieutenant Beamish RNAS becoming Flight Captain Beamish RAF and No. 3 Squadron becoming No.203 Squadron. Harold continued to fly nearly every day, with frequent clashes with the Germans.
On 21 July his plane was hit by ground fire, when at 3,000 feet near Merville, the plane was badly damaged and a bullet came out behind his head.
Later in the day he applied for six months leave in New Zealand and he left the squadron on 23 July.  Even his return passage was eventful, the convoy being attacked by U Boats and the ship next to his being torpedoed.
While he was on leave the war ended and Harold remained on the farm until he retired, passing away at the age of 91 in Havelock North.