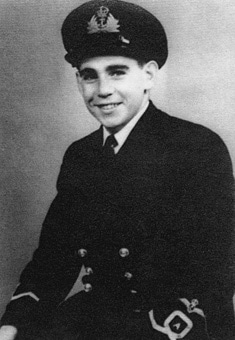 Nineteen year old Donald Cameron joined the Navy on 2nd May 1941, in his home town of Christchurch.
He signed up to the Scheme F recruitment programme and so committed to joining the Fleet Air Arm (FAA) and serving with the Royal Navy.
The New Zealand government had agreed to send suitable drafts of men to Britain to serve as naval aviators.
By 1942, Donald was undergoing his pilot training which included a course at the Royal Naval College at Greenwich.
His first sea posting was to the fleet carrier HMS Victorious as a Petty Officer Airman in June 1942. At the end of June he was given his wartime commission as a Temporary Midshipman [A].
By October, he was training on the carrier HMS Argus and was promoted to Temporary Acting Sub-Lieutenant [A].
Just a few months later, in 1943, he was flying over the Allied landings on mainland Italy when he was shot down. He was captured by a German Panzer division and held for ten days but managed to escape and return to Allied lines safely.
Like many others he immediately returned to naval service.
By 1945 he was serving with 1834 Squadron, flying a Corsair fighter off HMS Victorious, operating as part of the British Pacific Fleet. In April, Victorious along with the rest of the fleet was supporting Operation Iceberg; the landings and operations on the island of Okinawa.
Donald by now 23 years old, was shot down on 9 May 1945 over Ishigaki Island, part of the Sakishima Gunto group. He bailed out, but was unfortunately captured when he landed and taken to Taipei on Formosa (modern day Taiwan).
While held as a POW, he survived a bombing by friendly forces, and was brutally treated by the Japanese Army but again managed to escape.
Luck wasn't on his side as he was recaptured by the Japanese Navy. He was transferred from Taipei to the Japanese Imperial Navy's interrogation camp at Ofuna in Japan, located at the naval air station at Yokosuka.
Donald was recovered by a shore party from the cruiser HMNZS Gambia on 30 August 1945, at the Yokosuka Naval Base. He was repatriated in 1945 to Sydney in the carrier HMS Indefatigable, and then flown to Wellington.
Given the fate of many other FAA men he was very fortunate. He is one of the few New Zealanders to have been a POW held by two Axis powers in the war.