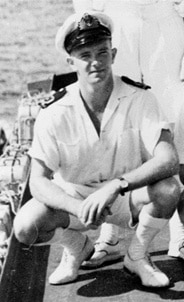 Evan Baxter joined the Fleet Air Arm (FAA) as part of the Scheme F recruitment programme.
He was sent to Britain and underwent training as a naval aviator.
In 1945 whilst serving as a Sub-Lieutenant (A) with the British Pacific Fleet in HMS Illustrious, Evan was flying a Corsair fighter with 1833 Squadron.
He was shot down during Operation Meridan I on 24 January 1945, while raiding Palembang. Evan bailed out, but was unfortunately captured.
He was placed in Palembang prison on 1 February 1945, but transferred shortly after to Outram Gaol in Singapore, with eight other captured Fleet Air Arm pilots.
Information was received that he was missing in action on 12 February 1945 and his status listed as missing presumed killed.
It is understood that Evan and eight of his fellow FAA pilots were murdered on Changi Beach in Singapore. Their bodies dumped at sea.
According to the Commonwealth War Graves Commision Evan Baxter's date of death is officially recorded as 31 July 1945, but this is not certain.
It was possible, that the group of FAA pilots may have been killed as a result of the midget submarine raid on the cruiser HIJMS Takao at Singapore, in July known as Operation Struggle.
It wasn't until 15 February 1946 that he was officially listed as presumed dead. On 16 July 1946, the Minister of Defence confirmed that he had been executed in Singapore. Apparently, the Japanese gave a false story he had been killed at sea when a POW ship taking him to Japan was sunk.
It is believed that 32 FAA pilots were executed by the Japanese between 1944 and the end of the war.
Sub-Lieutenant Evan Baxter is remembered on the Royal New Zealand Navy Second World War Memorial at HMNZS Philomel.