Vince McGlone was born Born on 23 March 1916 in Auckland to parents Barbara and Daniel McGlone. One of three children Vince was raised in the Auckland suburb of Kingsland where his father was the local Policeman. Vince was educated at Gladstone Primary School, Marist Brothers and Mount Albert Grammar prior to joining the Royal Navy (New Zealand Division) as a Boy Seaman 2nd Class in the Gunnery Trade on 15 January 1932 just shy of his sixteenth birthday.
He spent his first year of service training at the naval base before he was made a Boy Seaman 1st Class in January 1933.
On 20 January 1933 he had his first sea posting as he joined the ship's company of the cruiser HMS Dunedin. He served as a Boy Seaman in the cruiser until 23 March 1934 when at aged 18 he took up his 12-year term of engagement as was the practice in the navy at the time. On the same day he was given the rate of Ordinary Seaman. He served in Dunedin until September 1935. He was then posted to the sister cruiser HMS Diomede which deployed to Aden, Yemen as standby for possible action in the Italo-Abyssinian War. In 1936, whilst in England Vince was transferred to HMS Achilles  – a Leander Class Cruiser, to commission her and was part of the crew that brought her back to New Zealand arriving in September 1936. Back in Devonport he was posted off the cruiser and to the base HMS Philomel. He spent from September 1936 to January 1939 serving ashore and was sent on a course for promotion to Leading Seaman.
In January 1938, he rejoined Achilles as an Able Seaman. He was serving in her when in August of 1939 she was posted overseas as tensions rose in Europe and was on the South American Station when war broke out in September 1939. Vince was part of the ship's company that fought at the Battle of the River Plate on 13 December 1939. HMS Achilles along with HMS Ajax and Exeter were involved in a battle with the German armoured ship (panzerschiff) Admiral Graf Spee. Vince was in the four-inch director control tower on the Achilles during the battle. Vince remembers, "being just four feet away from the 6 inch director Control Tower where three men were killed and three more wounded during the battle". He remained with the ship when she returned in triumph to New Zealand February 1940. In the months following her return from South America Achilles was primarily employed on escort duties around New Zealand and in the immediate South Pacific. During this time she had several near encounters with German Raiders.
With the entry of Japan into the war the New Zealand cruisers came under command of the Americans. Achilles joined the Allied naval forces operating in the Pacific and began to provide escorts for transports between islands and supported landings of American troops.  In July 1942 she escorted ships to Wellington as the invasion force was gathered for Operation Watchtower – the Guadalcanal landings. During the initial campaign in the Solomons Achilles returned to escort duties for transports. In September 1942 she returned to Auckland for a refit.  Vince was posted to the cruiser until 17 November just before she left to work up with HMNZS Monowai after the refit and he missed the bombing of Achilles in January 1943 off Guadalcanal. In April 1942 he had been promoted to Acting Leading Seaman.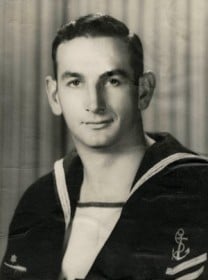 Leading Seaman Quarters Rating 2 Vince McGlone, was posted off HMS Achilles on 17 November 1942 and continued his service on board the converted minesweeper HMNZS Phyllis, serving in her until August 1943.  He then spent two months on the tender/examination vessel/auxiliary minesweeper HMNZS Claymore before being posted ashore to HMNZS Philomel from October 1943 to November 1944.
In November 1944 he was posted as an Acting Leading Seaman to the cruiser HMNZS Gambia, the largest warship to serve with the RNZN. She had arrived from service in the Eastern Fleet in the Indian Ocean. Vince joined the ship's company during her refit.  From December 1944 to January 1945 she took part in port visits around New Zealand. In February 1945 she was in Auckland and after brief exercises she departed to join the British Pacific Fleet. From February to June 1945 she served with the fleet off Japan. Vince was posted off the ship in June 1945. He returned to New Zealand and HMNZS Philomel. Vince was at Philomel when the Japanese surrender was signed on 2 September 1945.
In September 1945 Vince was posted to Achilles for his last sea posting. She sailed again on 22 September for Manus Island and Guam, arriving in Tokyo Bay on 6 October 1945 to relieve HMNZS Gambia. Achilles visited several ports in Japan before departing for Hong Kong on 19 January 1946. After four weeks t she departed for Auckland, via Subic Bay, Manus Island and Sydney, arriving on 17 March, thereby ending her service with the British Pacific Fleet. Vince was posted off HMNZS Achilles in April 1946 transferring to HMNZS Philomel.
Vince was discharged from the RNZN on 18 June 1946 after 14 years of service.
Vince was awarded the following medals in recognition of his service:
1939 – 45 Star, Atlantic Star, Pacific Star, British War Medal, NZ War Medal, NZ Operational Medal, Japanese Occupation Medal.
Vince married his wife Patricia on 24 June, 1944 and together they raised six children. Vince passed away on 13 March, 2014 aged almost 98 years old. He was one of the last surviving New Zealand naval veterans of the Battle of the River Plate. The The galley at the Devonport Naval Base – HMNZS Philomel is named the Vince McGlone Galley in his honour.