The Battle of Heligoland Bight as then Lieutenant AD Boyle recalled it.

Wednesday 26th August 1914
At Grimsby. We played hockey, which kept us very fit.
There is really nothing to do at all. I have bought a pair of night glasses from Gieves at 8 pounds 15 shillings.
I do not think it extravagant considering they add to the safety of the ship. We are all growing mutton chop whiskers for something to do.
Mine are nasty at present but I hope will impress Battenburg [sic] who is growing a beard.
I shall be very surprised if this war is over in a year. I should say it will last at least two.
There is no news of the fleet. I suppose they are still at Scapa or thereabouts. Everybody is quite certain we will lay the German fleet out if we meet them at sea and it is a decent day.
I think personally that if the day is thick we will have more difficulty. Anyhow I wish we could do something. It is deadly dull here with nothing to do at all.
Thursday 27th August 1914.
Sailed with HMS Invincible and four destroyers at 1000. Shaped course for Heligoland. Heard when we got out that they had found several mines in the entrance during the morning and had sent these up.
Feel certain all these mines are laid by trawlers and tramps in neutral colours. I suppose the Admiralty knows all about it.
When clear of the land, the Captain told us our plan of campaign.
We join Admiral Beatty and the 1st Battle Cruiser Squadron at 0500 off Heligoland. Thirty five destroyers will approach Heligoland at daylight and try and draw the enemy out.
We remain clear to mop them up if they come out. The 1st Light Cruiser Squadron will be with us too. Six submarines will be with us and make an attack in the Emden River.
Three seaplanes will go over to the coast in a carrier and make an attack with bombs on a cruiser that is known to be lying at the mouth of the Emden at daylight.
Four of the Drake class will escort the seaplanes. There is nothing of interest during the day and nothing at night.
Friday 28th August 1914
Heard first thing that the seaplane attack was cancelled. Found the 1st Battle Cruiser Squadron at 0500.
At 0815 signals received that the destroyers were being engaged inshore in heavy action. Steamed around in a square at our rendezvous waiting for news.
1015 Invincible opened fire on a submarine, which then attacked us a torpedo going just clear of our bows.
Fired one shot at her with the foremost 4 in gun but missed. She afterwards rose on the port quarter and I saw her quite clearly.
Painted light gray with small gray cowls. Got X turret trained on her but she dipped before I could fire.
1100 heard heavy firing ahead went on at full speed.
Sighted light cruiser squadron in hot action with all our destroyers chasing submarines.
There was quite a thick fog caused by all the destroyer smoke. Could distinctly see shells falling amongst the destroyers and the light cruisers were firing as fast as they could at something but could not see what.
Eventually came up with the light cruiser squadron and found they had captured a German light cruiser called the SMS Mainz. She was in a frightful state, two out of three of her funnels lying flat and both masts gone.
She was well down in the bows and burning. It did not look as if there could be many on board alive. We passed close to her and went on in chase of the cruisers. Then there were five of us.
At 1200 HMS Lion which was leading opened fire but the smoke was so thick we could see nothing.
Shortly afterwards HMS Princess Royal the second ship started, then the HMS Queen Mary and then we could see the flashes of the enemies guns on our port hand.
We opened fire with A turret at the flashes but could not see the hull of the ship.
I could see the mastheads and occasionally the bow and stern.
The rest was enveloped in black smoke from bursting shells.
She was only 4000 yds off and we fired for twenty minutes getting off 82 common shell at her, until her guns were silenced.
X turret only fired fourteen as the smoke from the other guns made it impossible to see most of the time.
The main cage of the left gun got jammed and that gun only fired four rounds. One of her shots hit us but they nearly all went over.
I could see her after gun firing until the end. When the smoke cleared we could see all her funnels down and mast gone and she was burning amidships.
Destroyers were sent to save some of the crew but when they got near her they thought she fired a shot and they came back and Lion opened fire again.
After five rounds she went down with her stern in the air and she sank like a stone. The destroyers then went off to see if they could pick up anybody but we do not know if they were successful.
Nobody yet knows what the ship was. Some say a light cruiser. Personally I think it was a light cruiser with only 4 in guns but it took five battle cruiser twenty minutes to see her off.
I suppose the whole squadron fired 350 rounds of common shell in 13.5 and 12 in guns. The noise was terrific.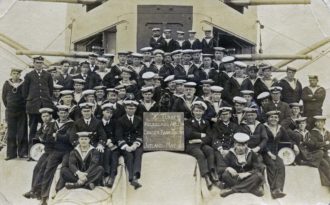 The only casualty in our squadron was one man hit in the Princess Royal. During the action a submarine was sighted on the starboard bow and the captain saw two mines, which we missed by a few feet.
When it was all over we steamed away towards Scapa. Our men behaved very well indeed and a cheer went up when they heard the guns had stopped firing.
Petty Officer Harrington our right gun layer got very excited when we first started firing and tossed his cap at the trainer cursing loudly. He is a very hot-blooded Irishman.
It was a very inglorious victory considering our superiority and I think the Germans where very gallant not to have hauled their flag down when they saw they had not got a hope. I trust some of them are saved.
The blast of our own guns did considerable damage to the officer's cabins and messes. Very little is known of the rest of the battle but we understand a German destroyer was sunk and HMS Arethusa and one of our destroyers were damaged during the destroyer action.
We also hear the thirty-eight men were killed and twenty injured during the action though nothing is authentic.
I must say I really hardly realised we were being fired at during the show. I forgot to say we fired two torpedoes one of which hit and hastened her end.
If all fleet actions take place at that range due to the smoke then there will be some casualties.
At about 1800 we left the Lion, Princess Royal and Queen Mary and with the Invincible steamed southeast. At 1830 we get a signal from HMS Euryalus requesting assistance and went off at full speed.
This was cancelled later. Fell in with two of our submarines E2 and E5 who had German prisoners on board including one Lieutenant from the destroyers.
They all went to one of our destroyer. Spent the night steaming up the North Sea and did nothing and saw nothing.
Note:
Three German light cruisers SMS Mainz, Köln and Ariadne were sunk in this battle along with one torpedo boat V187.