SMS Möwe was a merchant raider of the Imperial German Navy which operated against allied shipping during World War One. Disguised as a neutral cargo ship to enable it to get close to targets the Möwe was effective at commerce raiding ending up as the most successful German Raider in either the First or Second World Wars.
The 'first of class' of the new hilfskreuzers (auxiliary cruisers) was a refrigerated freighter which was commissioned as Möwe (seagull) on the 1st of November 1915 under the command of Nikolaus Graf und Burgraff zu Dohna-Schlodien.
The hilfskreuzers were extensively modified, with armament fitted behind false bulwarks and building materials and paint taken on board to extend the superstructure, add a extra funnel or change the shape of the stern.
The Möwe, armed with 4 x 150mm and one 105mm guns, two torpedo tubes and 500 mines, under took two major and three lesser raiding cruises (from December 1915 to March 1917) resulting in the sinking or capturing of total of 40 ships.
The pre-dreadnought battleship HMS King Edward VII  was a victim of the mines Möwe laid in the Pentland Firth near the main base of the British Home Fleet at Scapa Flow.
On her second cruise Möwe fought the New Zealand Shipping Company's cargo steamer Otaki off the Azores in the Atlantic on the 10th of March 1917.
Armed with a single 120mm stern gun, the Otaki fought a gallant but doomed action.
The Möwe was hit several times and a serious fire was put out with difficulty.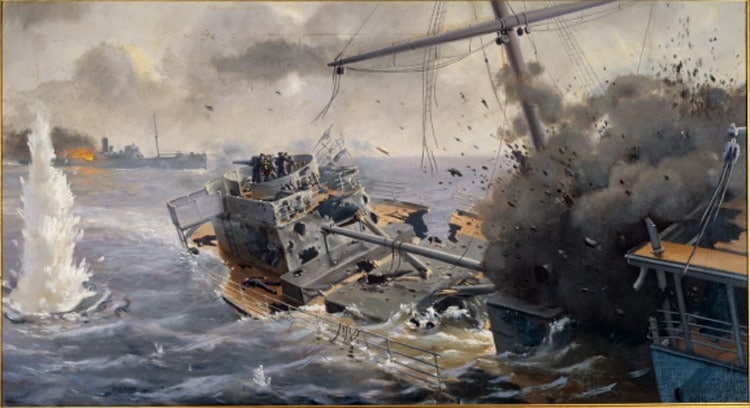 The Otaki, however, was hit some thirty time before sinking. Otaki's captain Archibald Bisset-Smith was awarded a posthumous Victoria Cross for "conspicuous bravery and devotion to the country in the presence of the enemy.
The citation stated that, "he fought against overwhelming odds and all but succeeded in destroying the enemy, finally going down in his ship with the British colours still flying".
The VC was one of only two awarded to the Merchant Service during WWI.