How It All Started
Well-known author Gerry Wright's love of ships began with a book about New Zealand shipwrecks. 'I must have been about 12 when I received the book New Zealand Shipwrecks. I carried it around with me, grabbing a few moments whenever I could to delve into its pages,' reminisces Gerry.
Gerry was born in Hastings in 1938. He and his family lived in the Hawke's Bay region for 10 years before moving to Auckland. They arrived just before the 1951 Waterfront Strike. Gerry vividly remembers not being able to buy anything during the strike and how the family had sat around the kitchen table painstakingly separating ants from grains of sugar. Sugar was a valuable and scarce commodity.
Gerry attended Seddon Memorial Technical College in Wellesley Street (now Auckland University of Technology) by day. In the early evenings he kept his dreams of the sea alive by walking the Auckland wharves. School wasn't really Gerry's thing. Back in the 1950s, to pass School Certificate you needed to pass English. Rather ironically for the now prolific author, Gerry failed English, achieving only 27%.
Gerry wrote to the Union Steamship Company asking about a cadetship. However, the £150 uniform charge and £100 bond just wasn't possible for a young 16 year old earning just 10 shillings a week (the equivalent of $1 today), delivering newspapers. Gerry's father arranged a carpentry apprenticeship for him and Gerry put his dream of a career at sea temporarily on hold.
Naval Career Begins 
In December 1954, Gerry made the trip across to Devonport Naval Base to enquire about joining the navy. His dream of a career at sea was still very much alive. He was interviewed at the Gunnery School. The chief gunnery instructor thought his technical background would make him a good engineer. Gerry, having just read Cruel Sea by Nicholas Monsarrat, a novel about Royal Navy sailors in the Atlantic during World War II, wasn't so keen on the idea.
Joining up as Seaman Boy, Second Class, Gerry began his career in February 1955 with 32 others in the 33rd Seaman Boys class. Gerry spent his first year as a young recruit at HMNZS Tamaki on Motuihe Island. The infamous German Count Felix von Luckner was imprisoned there during World War I. Gerry recalls that his first job was taking the food scraps to the island's piggery – not exactly what you might expect to be doing when you join the navy!
Gerry quickly found himself in the Advanced Class. He credits time in the Sea Cadets and having had the foresight to copy out the Seamanship Manual, Volume 1, as the key to getting the jump on his fellow recruits. After he completed his training, Gerry's first posting was to the frigate Kaniere. The frigate sailed for the Far East Station on a 16-month deployment.
Career Highlights
With many key moments in his 26-year career, Gerry recalls time off Christmas Island for the British hydrogen bomb tests whilst serving on HMNZS Pukaki. 'We were 80 miles from the drop zone, fully dressed with anti-flash gear. We sat on the deck with our backs to the Ground Zero waiting. When the Valliant bomber released the bomb at 40,000 feet we covered our eyes with our hands.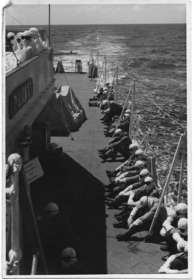 'When the bomb exploded there was no noise, just the flash. I could briefly see the bones in my fingers. Then came the heat. It was just like lying in the sun on a cloudy day and the clouds parting. After a count of 15 seconds we stood up and turned around. The fire ball was like a rising sun – blinding. Everything was silent except for the blinded crying birds. Then the mushroom plume rose up with flames into the atmosphere. The boom arrived a minute later.'
Gerry witnessed five nuclear tests on Pukaki during Operation Grapple. He spent the last four tests in the radar office tracking the weather balloons, which were released every six hours. His task was to report the bearing, elevation and range of each balloon to the Royal Navy Meteorological team every minute until the balloon reached at least 60,000 feet (18,288 m). The met team calculated the wind speed and direction at every 1,000 feet (305 m).
'We spent two deployments of over a month each as part of Operation Grapple. One night I saw Sputnik in the dark clear sky. I remember thinking, here I am, having failed School Cert English and now I'm witnessing the cutting edge of scientific technology of the day; satellites and nuclear bombs!'
Gerry rose through the ranks to Lieutenant Commander, commanding HMNZS Haku, HMAS Curlew, HMNZS Inverell and HMNZS Tui. He also had a six-month stint on the British submarine HMS Tabard, where he qualified as a submariner.
Gerry's career included time on HMNZS Santon, a Royal Navy minesweeper 'armed to the teeth' (in Gerry's words), to protect Malaysia and Singapore from Indonesia during the Indonesia–Malaysia Confrontation. Then in the early 1970s, he attended the inaugural Principal Warfare Course in the United Kingdom before joining HMNZS Otago as Operations Officer. Gerry was on board when she was sent to protest French Nuclear testing off Mururoa in 1973. Gerry describes the French nuclear device test as being more like a firecracker in contrast to the earlier British tests. He completed his career on the sea in command of HMNZS Tui, a role he thoroughly enjoyed.
Leaving the Sea
After he retired from the navy in 1981, Gerry spent two years running an IHC workshop in Epsom. He then took up a role as Nautical Advisor (Oil Pollution) for the Ministry of Transport, Marine Division. Fourteen years later the pull of the sea was too strong, and he returned to the waves, this time for six years as Master of several merchant ships in the South Pacific.
History has a way of repeating itself, and things do seem to happen in threes, or at least they do for Gerry Wright! In 1998, Gerry was asked to captain the tug Stanley Brown on another trip to Mururoa. The plan was for the tug, with a sister tug, to tow a 12,000 ton (10,886 tonne) floating hotel, which had been used to accommodate the decommissioning workers at Mururoa Atoll, to Brisbane. This journey was not without incident, including an arrest warrant, an uncooperative engine and a lack of fuel. Not one to be deterred, Gerry finally managed to get the tug, his crew and the hotel safely to Brisbane.
So how did Gerry go from ship's captain to author? Largely by chance, with a little bit of mistaken identity thrown in for good m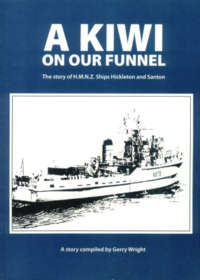 easure. His youngest daughter came home one evening to report that she'd met someone who knew him and had heard that he had been awarded a medal. However, the real recipient was Lt Cdr Peter Wright. The confusion inspired Gerry to start his own research, which quickly grew into a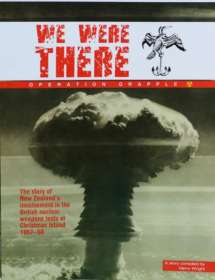 book: A Kiwi on Our Funnel, which tells the story of minesweepers HMNZS Santon and HMNZS Hickleton.
In 2005, members of the New Zealand Nuclear Tests Veterans Association were planning a reunion to commemorate the 50th anniversary of the first Christmas Island hydrogen bomb test. They asked Gerry if he could write a book about Operation Grapple. The resulting We Were There was launched at the group's reunion on 15 May 2005.
The book Gerry has most enjoyed writing is North Sea Warrior about Jim Macdonald, New Zealand's most decorated naval officer. Macdonald was awarded the Distinguished Service Order (DSO), the Distinguished Service Cross (DSC) and two bars. He was Mentioned in Despatches on two occasions. He also devised and built a torpedo sight, which calculated speed and direction when firing torpedoes from motor torpedo boats. This greatly improved accuracy. 'He was a fantastic guy, a great leader and showed huge compassion towards his men,' says Gerry.
Gerry has nearly 20 books to his name, and continues to self-publish. An early piece of feedback from a prospective publisher that he should include a love story in his book convinced Gerry that self-publishing was the way to go. Husband to Liz for 48 years, Gerry is the father of two daughters, Philippa and Bridget, one son, Timothy, and six grandchildren. None of Gerry's family have followed him into a career on the sea but he does credit Bridget with sparking the idea of his becoming a writer. Gerry has no plans to slow down, with a sea of ideas still on the horizon.
Gerry spends a great deal of time researching his books and sourcing images with the help of the Navy Museum's collections team. A number of Gerry's books can be purchased at the museum store and through Gerry's website www.gerrywright.co.nz