HMNZS Taranaki was a Rothesay-class anti-submarine frigate. She served in the Royal New Zealand Navy from 1961-1982.
Ship Details
Pennant No: F148
Built: J.Samuel White & Co. Ltd, East Cowes Isle of Wight
Laid Down: 27 June 1958
Launched: 19 August 1959 by Lady Freyberg
Completed: 28 March 1961
Commissioned: 28 March 1961
Decommissioned: 18 June 1982
Displacement: 2557 tonnes full load
Machinery: Oil fired 2-shaft high speed impulse turbines 15000hp via David Brown double reduction geared steam turbines = 30+ knots
Armament:
2 x 4.5-inch [115m] in a single twin gun turret
1 x 40mm Bofors anti-aircraft gun [early 1970s had 2 x 40mm fitted]
12 x 21-inch [533mm] torpedo tubes 8 x single mounts, 2 x twin mount – replaced with 6 x 12.75-inch [324mm] 2 x triple mount anti-submarine torpedoes
2 x 3-barreled stabilised Limbo Anti-submarine mortar – later removed
1 x quadruple Seacat missile launcher fitted 1962-1963
2 x 20mm Oerlikon guns [fitted 1970s]
Complement: 219 officers and ratings, later increased to 240
Ship's Badge:
In 1958, a competition was held for the design of a badge for the new frigate under construction.
Secondary school pupils from the Taranaki province were invited to submit a design. The winning design featured Mt Egmont/Taranaki and the lighthouse at Cape Egmont.
The designed was modified by the College of Heralds and approved by the Naval Board in mid 1960.
There was no motto created for the ship.
Taranaki means 'glittering peak'.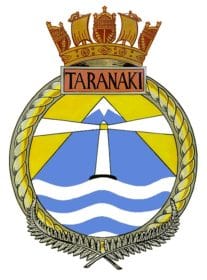 Ship History:
Background
The Whitby-class Type 12 frigates were designed in the early 1950s to locate and destroy modern Soviet submarines. The first ships were launched in 1954. Later ships incorporating improvements were known as a Mk II Whitby until 1960 when they were redesignated as Modified Type 12 (Rothesay-class). To confuse matters more the two RNZN frigates were known as "Otago-class". In February 1957 the RNZN ordered two frigates to replace the Loch-class frigates. The Whitby-class frigate Hastings was taken over and renamed Otago while the new frigate to be named Taranaki was ordered directly. Both frigates were completed as Rothesay-class with specific modifications requested for RNZN service. Taranaki was fitted with an attack sonar that passed data to computers, which in turn controlled the Limbo ASW mortars which fired a pattern of depth charges, set to explode around a submarine target. Her twin 4.5-inch gun was radar controlled. She carried a 3-in-1 whaler which could be sailed, rowed or motored.
As per the RNZN request, the builders concentrated on habitability in the sleeping and messing arrangements. Fitted with air conditioning, it could extract 2 tons of water from the air every 24 hours. Bunk accommodation was provided with separate dining hall. All meals were served cafeteria style from the central galley. The bunks could be folded into a settee with reading lamps and power points for radio and razors. The dining hall was wired for use as a cinema and a complete laundry was installed.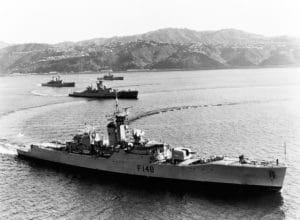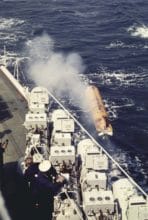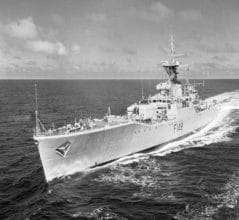 Commissioned into RNZN
On 29 March 1961, she was handed over to the RNZN after commissioning at Cowes on March 28th 1961. She then underwent working up and had to go back to the drydock for repairs to her machinery and shafts. By July 1961, she was fully worked up and was sent out to the fleet. In July and early August she took part in antisubmarine exercises with Royal Navy [RN] and Royal Netherlands Navy vessels in British and Irish waters. She departed for her first voyage to New Zealand on 28 August 1961. She carried out exercises with the United States Navy [USN] off San Diego and Hawaii. As she passed Fiji the RNZAF Sunderland flying boats carried out exercises from their base in the islands. She arrived at her new home port of New Plymouth on October 28th. She arrived for the first time at HMNZS Philomel at Devonport on November 2nd.
As 1962 began, Taranaki served as the guardship for the Auckland Anniversary regatta at the end of January and then was present off Waitangi for the celebrations that year. The Governor General Lord Cobham and the First Sea Lord Admiral Sir Casper John were embarked. On the way back to Auckland she passed between Cape Brett and Piercy Island at a speed of 25 knots through the 500m gap. Later in February she went to Wellington via Napier. When she arrived, she searched Cook Strait for a missing ketch. A shore party were sent to HMNZS Parore to continue the search with the police. Due to a fault in the machinery she had to return to Auckland.
Exercises
In March she went to Australia for Exercise LONGEX and trained with the Royal Australian Navy in the Eastern Australian Exercise Area [EAXA]. In May she went to Brisbane and arrived at Singapore at the end of the month via Darwin. She went to Hong Kong in early June and then took passage for the Okinawa area. She took part in Exercise RAWFISH with the Royal Navy's Far East Fleet including HMS Ark Royal, RAN ships and the USN task group with the carrier USS Hancock. Taranaki anchored at Buckner Bay off Okinawa and was one of the few RNZN vessels to have visited the island. She departed for Singapore and while on passage she took park in Exercise HOME RUN.
From the end of June until the beginning of September, she was based in Singapore. She took part in Exercise FOTEX 62 and Exercise AWKWARD, an amphibious landing operation. She spent some time in a drydock and underwent self-maintenance period. She left for Hong Kong in September briefly stopped to refuel and then went on to Japan. She visited a number of ports and also visited the Japanese naval academy at Etajima.
At the end of September, she visited Korea and at Inchon on the 24th where she had a reception for 100 guests. At the beginning of October, she returned to Hong Kong and exercised with the Royal Navy and Royal Fleet Auxiliary [RFA] vessels. She also spent time in drydock. In November she returned to Singapore and carried out exercises with RN ships. She departed Singapore in company with RN vessels and took part in Exercise DINKUM ONE. She also visited Christmas Island enroute to Fremantle. While on passage, she took part in Exercise DINKUM TWO. She took part in a fleet entry to Fremantle with RN, RFA and RAN vessels for the Empire & Commonwealth Games. She also took part in Exercise DINKUM THREE & FOUR. At the beginning of December, she returned to Singapore and then onto Hong Kong. on arrival Taranaki underwent an inspection by the Commodore of Hong Kong. She spent Christmas in Hong Kong.
At the beginning of 1963, she left Hong Kong and headed to the Philippines. While there she took part in exercises with the USN and RN fleets. Following the conclusion of the exercises Taranaki returned to Hong Kong and carried out exercises with RN vessels until mid-February. On the way back to Singapore she acted as plane guard for the carrier HMS Hermes. In March she was relieved by HMNZS Royalist, and she headed back to New Zealand. She stopped for a time in Darwin to repair a boiler then took passage to Port Moresby, followed by a short stop at Suva. She arrived at HMNZS Philomel on 1 April.
She went into dockyard hands for her first major modifications when the Seacat missile system was fitted. Along with Otago, she was the first RNZN vessel to carry missiles. The first firing of the missile from Taranaki was conducted on 11 September 1963. She then departed for a second Far East deployment. She went to the EAXA for working up post-refit and then went to Pearl Harbour via Suva. She returned to Suva to assist HMS Cook which had run aground and then returned to Pearl Harbour. She carried out exercises and training with the USN at Pearl Harbour in October and November. In December she went to Guam where she required repairs following damage to her port side from a fuel lighter. She then went to Hong Kong in company with RN & RFA ships where she spent a second Christmas.
She departed Hong Kong at the beginning of 1964 for Singapore. She was fitted with a new radar upon arrival. She spent January and February exercising with the carrier HMS Victorious, HMS Diana, and the submarine HMS Andrew. She did a brief trip to Malaysia where crew members from HMNZS Taranaki visited New Zealand Army personnel in camp. She returned to Singapore and carried out further exercises in February and March including Exercise JET 64. She also conducted a Seacat firing. In April she operated off Malaysia with the carrier HMS Bulwark as part of the Indonesian Confrontation deployment. She then returned to Hong Kong.
Search and Rescue
In late May 1966 she was dispatched to search for the missing collier Kaitawa off Cape Reinga. In June, while conducting the search, she was ordered South to act as a picket ship for an American aircraft making an urgent mercy flight to Antarctica. In 1968-1969 she underwent a major refit.
While in Hong Kong in mid 1970 she suffered damage due to a fire and had to return to Auckland for repairs.
In mid-September 1981 whilst off Fiji, Taranaki suffered a propeller-shaft fault requiring a return to Auckland for repairs.
Change in Role
With the establishment of a 200-mile Exclusive Economic Zone [EEZ] by the government, RNZN changed the role of Taranaki to resource protection. She had been laid up for a year from April 1977 due to manning shortages. In April 1978 she underwent a refit for conversion into a training role and EEZ work. She was recommissioned on 23 January 1979 for fisheries and training roles which she began in May of that year. She took over from Otago who had begun EEZ patrol voyages from the introduction of the zones on 1 October 1977. She would continue in this role until her decommissioning in 1982.
End of Service
In 1980-81 the RNZN proposed to modernise Taranaki and convert her to gas-turbine propulsion.[1] The project was begun by the RNZN Dockyard and equipment was ordered. However, the government arranged to purchase the Leander-class frigates HMS Dido [HMNZS Southland] and Bacchante [HMNZS Wellington] in October 1981. The conversion project to have commenced at the dockyard in April 1982 assisted by Vosper Thornycroft, was subsequently cancelled.
Taranaki was decommissioned from the RNZN at HMNZS Philomel on 18 June 1982. She was taken over by the dockyard and stripped for fittings to be used for the other frigates in commission. She was sold in August 1983 to Pacific Steel for breaking up. She was towed across the harbour to the Western Viaduct and the demolition was completed by March 1984. Park of her deck accommodation aft was kept for use as diving support quarters on the work barge Patiki.
[1] The supplier was to be Rolls-Royce Tyne engines.